ALTERNATIVES:
6.1. Decide how you intend to record information related to project management. Either "paper & pencil" technique or use of computer software will be effective. If you want to use software, purchase a professional software tool like "EZ HomeBuild" from Home Construction Consulting, which will provide an electronic means to organize and manage information for your project. However, it must be emphasized that homes have been constructed and remodeled for centuries prior to the advent of the computer, so traditional paper and pencil techniques are reliable, just not as efficient. Either way, concentrate on the primary goal of project management: to create a home style that meets the needs of your family's lifestyle. Checkout Case's Design/Build for Remodelers, Custom Builders, and Architects. To augment doing your mathematical calculations, purchase a hand-held calculator like the "Construction Master Pro" from Calculated Industries.
REFINEMENT:
6.2. Start to think and behave like a project manager by creating a "Job Diary" in your home office. A business card index, weekly appointment book, incoming/outgoing phone message register, and pad of memo forms will be the fundamental elements of your "Job Diary." Place these items adjacent to your phone, and utilize them religiously. Study what others are doing by referring to Schliefer's Construction Contractors' Survival Guide.
DOCUMENTATION:
6.3. Concentrate on using the "Job Diary" daily. Collect business cards as you visit suppliers or consult with trade contractors making notes on the reverse side of each card. Be prompt for appointments, and take notes on your memo pads for future reference. As you write notes in your appointment book, use black ink to make personal entries and red ink to make appointment entries. Keep the message register next to the phone so you log all calls relating to the Design-Build process. Get in the habit of running an efficient and reliable construction office.
NEGOTIATION:
6.4. Produce a "Communication Sheet" for your project. Architects, contractors, and suppliers are notorious for making excuses for their forgetfulness. By providing them with a communication sheet, you'll eliminate future misunderstandings! Your communication sheet will consist of a vicinity map, directions to the site, your job shack or home office phone number, how to contact key construction professionals of your project team, and any special reminders which seem pertinent like your email address or times when you can't be reached. Also, keep this information posted in your home office so it's a convenient referral.
MANAGEMENT:
6.5. Maintain an accurate diary of construction-related activities. A "Communication Sheet" will continue to help designers, contractors, and suppliers cure any bad cases of amnesia, and the appointment book will keep you organized. Log all telephone conversations using the message register to put into writing what's been agreed to on the phone. Set weekly deadlines for incomplete tasks or repair damaged products. Be persistent with designers, contractors and suppliers who need to correct deficiencies in their work, and be prepared to withhold payment for incomplete or deficient work to expedite completeness or corrections. Use a word processor to complete repetitive tasks and produce standard forms. Utilize Trellis' Documents, Contracts, and Worksheets for Home Builders.
DILIGENCE:
6.6. Organize a "Punch List" and remain constantly vigilant toward trade contractors and suppliers completing those details that are incomplete or deficient. Identify what's required to finalize work on your project, contact the responsible person for work to be accomplished, and set deadlines for the work to be completed. Become familiar with Traister's Home Inspection Handbook.
FOLLOW-UP:
6.7. Be certain the business card index, weekly appointment book, incoming/outgoing message register are consolidated and complete. Store all items comprising the "Job Diary" in the "Cardboard Box Files."
FURTHER READING: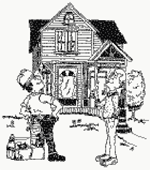 Quality Control is the act of maintaining a high degree of excellence whether it concerns a person's behavior or product installation.
How do you get in control of quality?
Review 30 pages of checklists from "Site work" to "Trim Package."
BIBLIOGRAPHY:
Case, Linda. Design/Build for Remodelers, Custom Builders, and Architects.
D.C.: Home Builder Press, 1992.
Construction Master Pro Calculator.
Calculated Industries, 2005.
EZ HomeBuild Software.
Home Construction Consulting, 2005.
Schliefer, Thomas. Construction Contractors' Survival Guide.
New York: Wiley & Sons, 1990.
Traister, John. Home Inspection Handbook.
Carlsbad: Craftsman, 1997.
Trellis, Al. Documents, Contracts, and Worksheets for Home Builders.
New York: McGraw-Hill, 1998.