ALTERNATIVES:
1.1. Consider your capabilities and define your anticipated level of involvement in the project. Begin to appreciate the difference between "Office" and "Field" management because the information base for "head" knowledge and "hand" knowledge are both necessary to your project's success. Consider what professional services may be required for your project. Utilize the community of Design-Build professionals through a team-building effort so decisions can be made collaboratively. Pay close attention to the ideas presented by Koberg and Bagnall in The All New Universal Traveler.
REFINEMENT:
1.2. Establish the principal players of the project team. Based on business, aesthetic, and technical requirements of your project, you may choose to collaborate with a General Contractor, Construction Manager, Architect, Engineer, Lawyer, or Accountant to create the best results possible for the decisions to be made. Initially, contract for professional services on an hourly basis in order to maintain better control over performance. Review McNulty's Management of Small Construction Projects.
DOCUMENTATION:
1.3. Involve construction professionals of your project team in the "Decision Making Process." Each professional provides specialized information established by years of education and experience. Don't expect free advice! By utilizing the complex information base of the construction industry, you're more able to anticipate management, aesthetic, structural, legal, and fiscal problems before they occur. There's a great overview of this process in Lewis' Fundamentals of Project Management.
NEGOTIATION:
1.4. Hold construction professionals of your project team accountable for their decisions. Don't be easily influenced by the stereotype that these licensed and certified professionals "know best" by virtue of their training and status. The good professional is one who is willing to share information, to learn from and respect their customers, and to act as a consultant, with a willingness to share decision making with you. You are the boss! Consider the wisdom gleaned from Diller's How to Succeed with Your Own Construction Business.
MANAGEMENT:
1.5. Engage services of construction professionals only on those matters that continue to demand their attention. You should handle routine decisions and actions! Only exceptions, deviations, and emergencies are reported to high-paid professionals for their expertise. You'll need to avoid casual phone calls and conferences with professionals because the minute they pickup the phone, the meter is running. Review Birnberg's Project Management for Small Design Firms.
DILIGENCE:
1.6. Send "Thank You" notes to construction professionals of your project team. Request a copy of any document that you may need from their files regarding your job. Get their advice for any items that may be necessary to include on your Punch List.
FOLLOW-UP:
1.7. Be sure all documents are stored in the "Cardboard Box Files." Write a memoir of your project experience, reflecting on the Design-Build endeavor. Whether prose or poetry, your memoir should combine aesthetic and technical musings. See Ehrenhaft's The Builder's Secret.
FURTHER READING: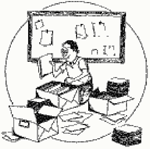 The Decision Making Process is based on shared responsibilities of a variety of construction professionals including architects, trade contractors, suppliers, and building officials who contribute their expertise to the residential Design/Build process.
Who will be the principal players of your project team?
We provide the "Decision Making Model" to better visualize the key players and the information base from which they operate.
"Get the Home You Want" is a power point presentation describing how to create a truly personalized home at a price you can afford.
Inside "Get the Home You Want" you'll: Discover how to articulate your vision and get a homestyle to match your lifestyle. Get practical advice for collaboration with the building community. Be better prepared to integrate drawings and specifications.
BIBLIOGRAPHY:
Birnberg, Howard. Project Management for Small Design Firms.
New York: McGraw-Hill, 1992, 1998 2nd.
Diller, Stephen. How to Succeed with Your Own Construction Business.
Carlsbad: Craftsman, 1991, 1999 2nd.
Ehrenhaft. The Builder's Secret
New York: Prima, 1999.
Koberg, Don. The All New Universal Traveler.
Menlo Park: Crisp, 1991, 2003 2nd.
Lewis, James. Fundamentals of Project Management.
New York: American Management Association, 1995, 2002 2nd.
McNulty, Alfred. Management of Small Construction Projects.
New York: McGraw-Hill, 1982. (Difficult to find….but, a classic!)